AccountancyLearning – AAT (L2) Foundation Accounting
[Pre-Order] – Deliver digital download link within 4-8 business days after successful payment. Please contact us to get more details.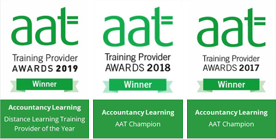 AAT Level 2 Foundation Certificate in Accounting
Need a little magic to spark up your career?
Unfortunately, a magic wand or genie won't help you with this one, but AAT could! If you are looking to kick start your finance career or progress in your current job role, then AAT can certainty help you and now may be the perfect time to start with UP TO £70 OFF OUR ACCOUNTING COURSES! Discounts are included below:
Take your career to the next level with the AAT Level 2 Foundation Certificate in Accounting
The AAT Level 2 Foundation Certificate in Accounting is a distance learning or home study course. It represents the typical starting point for those who wish to work in an accounting role in practice or industry. It's also an excellent qualification for those who are already working in finance but would like recognition of their skills. The course will introduce you to manual double-entry bookkeeping skills including associated documents and processes, up to Trial Balance standard. It also includes key units (modules) on Cost Accounting and Computerised Accounting.
Little or no prior knowledge or experience is required, although good basic numeracy and literacy skills are needed.
Following successful completion of the AAT Level 2 Foundation Certificate, you can progress onto any of the AAT Advanced qualifications.
We have three different course packages to suit all needs and budgets.
You can choose from our:
The Foundation (Level 2) Certificate in Accounting consists of four unit assessments and one synoptic assessment:
Bookkeeping Transactions (BTRN)
Bookkeeping Controls (BKCL)
Elements of Costing (ELCO)
Using Accounting Software (UACS)
Synoptic Assessment (FSYA)
– Incorporating 'Work Effectively in Finance' (WEFN)
Our self-study package is for those who don't feel they need any tutor support. This package includes access to all our unique e-learning resources: bite-size interactive video presentations with voiceovers, downloadable transcripts, interactive quizzes to check your learning, downloadable practice activities to work through as well as comprehensive Progress Tests and Practice Assessments to prepare yourself for the AAT exams. We provide the answers for all practice papers so that you can mark your own work. This package does not include any AAT registration fees or exam/admin fees.
AccountancyLearning – AAT (L2) Foundation Accounting