Lawrence Light – "Cover Letters That Get Interviews" eBook and Video Workshop
[Pre-Order] – Deliver digital download link within 4-8 business days after successful payment. Please contact us to get more details.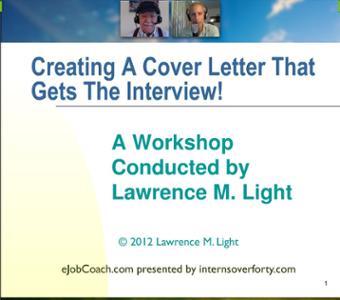 "Cover Letters That Get Interviews" eBook and Video Workshop
This package prepares you completely for your next interview. eBook and "live" one-hour Video reinforce each other. Everything you need to know to be able confidently handle any type of interview.
Product Description
Come to our Ondemand Workshop Webinar to learn exactly how to write your own personalized Cover Letters that get interviews ! This special Workshop Webinar concentrates strictly on how to create one of the most important documents you'll need for a successful job search.
An easy-to-read format as an eBook; the companion piece can be downloaded as a "live" presentation in Video Seminar Workshop format. These two new offerings show you how you can easily learn how to "Create Cover Letters To Get Interviews".
And … because, as a combination, they make an extremely powerful "do-it-yourself" experience, we've now made it extremely economical for you to get both of these packages together.
Every piece of information, every page, every detail, in both the eBook and the Video Workshop came from the fifteen years I have spent working with clients. Every document shown in both packages is a real example of how my clients got jobs. I've cataloged every "tip", every "technique" that led to a client getting a job. No theoretical ideas about what gets interviews. They're all based on real stuff and what's "known to work."
This is part 3 in the how to workshops.
Part 1: Creating Killer Resumes
Part 2: Creating Cover Letters That Get You Interviews
Part 3: Interviewing To get the Job
Lawrence Light – "Cover Letters That Get Interviews" eBook and Video Workshop