Patrick Curtis – Is MBA Right For You?
[Pre-Order] – Deliver digital download link within 4-8 business days after successful payment. Please contact us to get more details.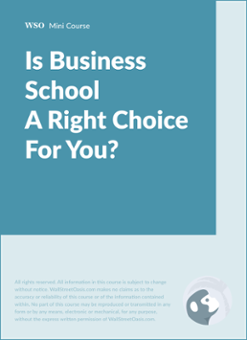 Is MBA Right For You?
All mini-courses included in the Elite Modeling Package
Compare the top MBA programs
How to get into top programs with low stats
Application process tips and tricks
What to do with a MSF
Module 1: MBA Programs
Is an MBA Worth it for you? (71Min)
MBA: Path to 7 Figures or Waste of 6 Figures? (43Min)
MBA and Your IB & PE Career (55Min)
A Panel Discussion How to Choose MBA Programs (43Min)
Similarities and differences between the top MBA programs (70Min)
Module 2: Application and Interview
Corpfin Analyst to Top 10 MBA Program, How to Prepare (51Min)
Get Accepted to Top B-Schools with Low Stats (40Min)
MBA applicants – How to impress adcoms with a compelling story (60Min)
My application to Wharton MBA (53Min)
What to expect and how to prepare for your MBA admissions interviews (59Min)
Module 3: Other Opportunities
How to apply and become a Rhodes Scholar & how this scholarship opens doors to a career in finance (61Min)
Non-Target School to BB IB (61Min)
MSF to Banking Transition (48Min)
Masters in Finance at the LSE or MBA at Wharton (65Min)
Recruiting for IB out of an MSF Degree (25Min)
Patrick Curtis – Is MBA Right For You?