Rachael Robertson – Extreme Leadership Video Program
[Pre-Order] – Deliver digital download link within 4-8 business days after successful payment. Please contact us to get more details.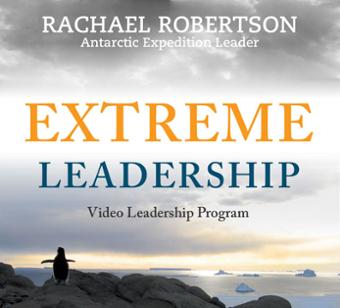 Extreme Leadership Video Program
Product Description
From Antarctic expedition leader, world-renowned leadership expert and best-selling author Rachael Robertson comes an inspirational and practical program to accelerate your leadership journey.
In this program she brings together the 12 most important concepts that separate leaders from managers. Use this video program to create a productive and respectful team, build relationships and exercise influence.
Build

self-leadership and self awareness through active reflection

Improve

productivity through a focus on direct conversations

Eliminate

gossip and answer-shopping from workplaces and teams

Influence

others and get them to do what you want them to do
This program teaches you Rachael's leadership tools

This program is for anyone, from established executives to emerging leaders, who want to build their leadership capability. It uses the 70-20-10 model where the bulk of the learning takes place in the workplace itself.
Each session contains an 8-12 minute video followed by a period for reflection to make the lessons real by applying the ideas to your own situation. Each weekly session includes a new focus of effort in the next week and a leadership journal to capture and reflect on your efforts and attempts to put the ideas into practice.
The Program includes:
First lead yourself – techniques to build self awareness
Lead from where you are – how to lead without a title
Regret what you did…– how to take your opportunities
Leadership Language…– develop your leadership language pallette
Stories need data – how to convince anyone of anything
Respect trumps harmony – and how to build a culture

of respect without sacrificing results

No Triangles – techniques to have direct conversations
Difficult conversations – 10 steps to make them work
RU OK? The case and tools to check in on people
Bacon Wars – Know how to deal with niggling issues
Gen-savvy Leadership – How to lead up to 5 different generations in the workplace
Plane Crash – The four pillars of crisis leadership
Program is delivered digitally and includes videos and a PDF workbook.
Rachael Robertson – Extreme Leadership Video Program