Rachael Robertson – RESPECT TRUMPS HARMONY
[Pre-Order] – Deliver digital download link within 4-8 business days after successful payment. Please contact us to get more details.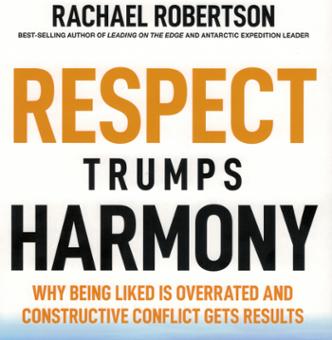 RESPECT TRUMPS HARMONY
WHY BEING LIKED IS OVERRATED AND CONSTRUCTIVE CONFLICT GETS RESULTS
Do you strive for a harmonious, happy workplace? Then get ready for poor performance!
In Respect Trumps Harmony, Antarctic expedition leader Rachael Robertson shares her truly unique experience, backed by extensive research, to show why the highest performing teams are those that let go of harmony, and focus on respective, diversity of opinions and embrace difficult conversations – all in the service of creating remarkable results.
This practical and engaging book provides evidence-based, proven tools to:
create a culture of open and direct communication

foster bias-free diversity and inclusion

identify the small issues that are often a symptom of disrespect

put an end to gossip and negativity
Respect Trumps Harmony will help you to build resilient, adaptable and high-performing teams and maximise the benefits of personal differences.
Rachael Robertson – RESPECT TRUMPS HARMONY