Wonsulting – The Entire Recruiting Cycle: Landing the Offer
[Pre-Order] – Deliver digital download link within 4-8 business days after successful payment. Please contact us to get more details.

The Entire Recruiting Cycle:
Landing The Offer
Have you been applying to hundreds of jobs online and
expected responses back from one when, in fact, you've been rejected by all of them?
We have, but we're here to change that with our Wonsulting Online Course.
Jonathan Javier graduated from UC Riverside, he was on track to becoming a retail manager because he thought he couldn't get into his dream companies like the Google's, Deloitte's, and Goldman Sachs' of the world due to his non-target school background. However, he's landed offers at his dream companies: Snap, Google, and Cisco all through LinkedIn.
Jerry Lee comes from a low-income, first generation immigrant family where he didn't have a career support system. But he became the first intern at Google from his alma mater. And when he was ready for his next role, he used these strategies to interview with 10 companies in 6 weeks during the COVID-19 pandemic.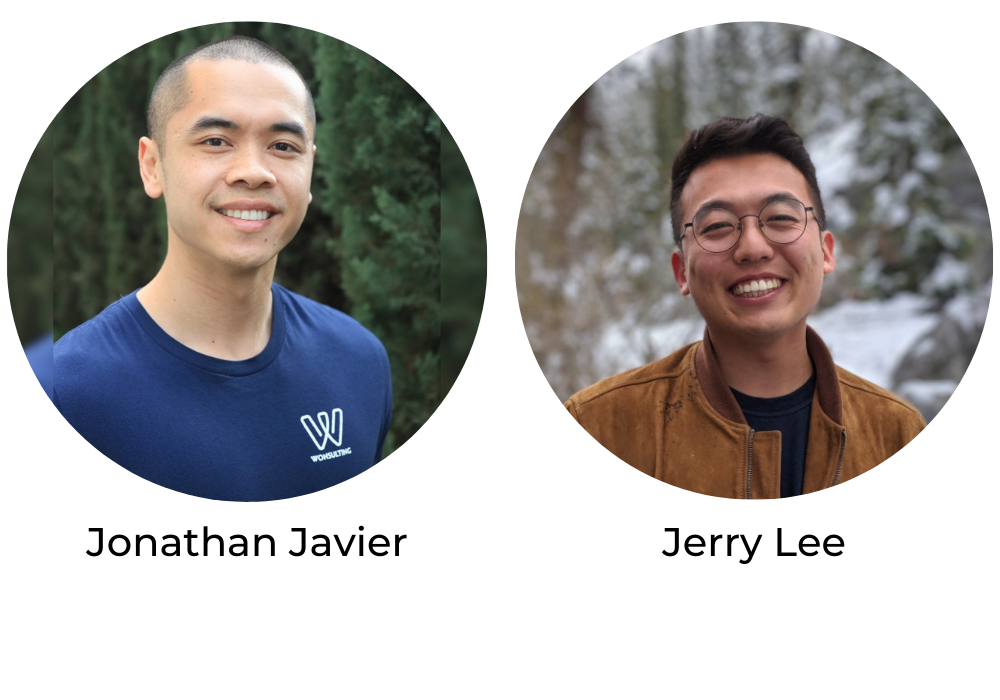 Our Courses
What do we offer in our course?
For the first time, we're going beyond the LinkedIn strategies.
We're covering EVERYTHING you need to land your dream job, regardless of what background you come from. In our course, you'll find:
Finding your dream job: Use our proven method to learn how you can find a role you love.
Perfecting your resume: Learn how you can make your resume ATS proof.
Proactive & reactive recruiting: Land interviews without ever submitting the "apply now" button.
Preparing for your interviews: Predict up to 75% of your interview questions
Maximizing your compensation: Negotiate your compensation up to 30%!
What you'll get access to:
Lifetime access to the Wonsulting Online Course: The Entire Recruiting Cycle
39 videos
"The Ultimate Guide to Landing Your Dream Career", a Wonsulting Book with 45+ pages
20+ pages of resources & templates (e.g. resume, messages)
Access forever to an exclusive Online Course community (Mentorship Group for Standard/Pro)
Contribution to Wonsulting's mission of turning underdogs into winners
The Entire Recruiting Cycle: Landing The Offer
Finding Your Dream Job
Intro to Finding Your Dream Job (Find Wonsulting Book Here!)

(0:23)

1.1 What does it mean to find your dream job?

(1:56)

1.2 Converting Interests Into Passions

(1:18)

1.3 Identifying Your Dream Job

(0:59)

1.4 Creating Your Attributes

(1:40)

1.5 Finding Professionals in your Dream Job

(2:52)

Ending to Finding Your Dream Job

(0:25)
Building Your Resume
Intro to Building Your Resume

(0:24)

2.1 Making Effective Resumes

(1:43)

2.2 Structuring Your Resume

(8:25)

2.3 Example of a Good Resume

(8:21)

Ending to Building Your Resume

(0:27)
Proactive Recruiting
Intro to Proactive Recruiting

(0:28)

3.1 Background About Recruiting

(1:14)

3.2 The Tiers for Applying

(2:17)

3.3 Finding Hiring Managers

(7:54)

3.4 Phone Chats

(3:55)

3.5 The Importance of the Tiers

(4:24)

Ending to Proactive Recruiting

(0:32)
Reactive Recruiting
Intro to Reactive Recruiting

(0:29)

4.1 Creating Reactive Recruiting Opportunities

(1:02)

4.2 Structuring Your LinkedIn Posts

(4:38)

4.3 Networking Through Your Posts

(2:40)

Ending to Reactive Recruiting

(0:29)
Interview Preparation
Intro to Interview Preparation

(0:28)

5.1 Background of Interviewing

(1:38)

5.2 Breaking the Ice

(3:05)

5.3 Types of Interview Questions

(4:02)

5.4 Formatting Your Answers

(2:52)

5.5 Case Interviewing

(3:21)

5.6 Predicting Interview Questions

(1:58)

5.7 The Follow-Up

(2:41)

Ending to Interview Preparation

(0:29)
Compensation Negotiation
Intro to Compensation Negotiation

(0:32)

6.1 Framework of Negotiating Your Salary

(2:08)

6.2 Researching Compensation

(2:33)

6.3 The Ask

(2:48)

Ending to Compensation Negotiation

(0:57)
Wonsulting – The Entire Recruiting Cycle: Landing the Offer